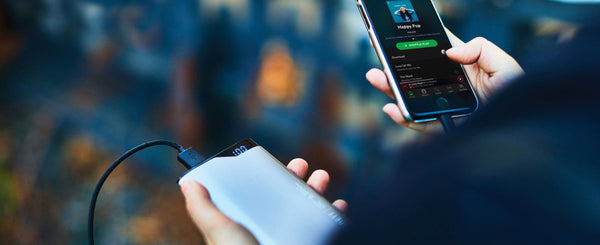 Power Banks
With a Cygnett Power Bank, you'll never have to worry about your phone, laptop, or other smart device losing power ever again. As a leading supplier of digital accessories, you can rest assured that we have the perfect Power Bank for you. From compact slim and mini Power Banks to wireless, portable Power Banks - we've got Power Banks that will offer you amazing everyday convenience! Perfect for traveling, a Power Bank easily and efficiently charges your device while on-the-go.
Best UK Power Banks
Easy to use, quick to charge, and portable: browse our extensive range and find the best Power Bank for your device. Whether you're after a fast-charger, Power Bank, a magnetic wireless Power Bank, or one specifically designed to optimise the charging function of your laptop, tablet, and phone, we provide Power Banks with milliamp hour charging speeds from under 5000 mAh to a whopping 20000 mAh. From slim and mini devices to portable chargers, we've got the best Power Banks the UK has to offer.
Slim & Mini Power Banks
Talk about easy! Grab one of our slim and mini Power Banks, and easily store it in your pocket for effective and quick everyday charging of your smart devices. Offering a compact, discreet, and stylish design, our slim and mini Power Banks are super portable and will charge your devices fast. With an easy-to-use digital display, these reliant and affordable Power Banks are great for busy people on-the-go. Many designs even have multiple charging ports, which means you can easily top up the power of several devices simultaneously!
Fast Charging & Portable Power Banks
In this digital age, our time has become our most valued commodity. If you're after a fast charging Power Bank with awesome portability, you've come to the right place! We offer affordable Power Banks with super quick charging speeds to charge multiple devices at a time and help you get the job done fast. You can charge up to 3 devices at once with our 10000 - 20000 mAh range, and get up to a whopping 5.2 phone charges!
Frequently Asked Questions
What is a Power Bank?
A Power Bank is a portable, rechargeable battery pack with multiple USB ports (with some even offering a wireless charging function) that are designed to charge your phone and other smart devices while on-the-go.
How to charge a Power Bank?
After charging multiple devices, your Power Bank will eventually need to be recharged to continue being the powerhouse it is. Recharging a Power Bank is extremely easy. Just plug in the Power Bank to a power supply outlet using its USB-C cable, and top it up to full capacity whenever needed. The handy digital display will indicate when it's reached full charge.
Are Power Banks worth it?
Absolutely! There's nothing worse than being in the middle of something and having your battery die. A portable Power Bank is a fantastic device for any modern individual to rely on because you can take it absolutely anywhere. A Power Bank is also incredibly useful to take to areas where you know there will be little to no power supply for hours at a time.
We don't seem to have any product in this category just now, please check back with us later as new styles arrive regularly