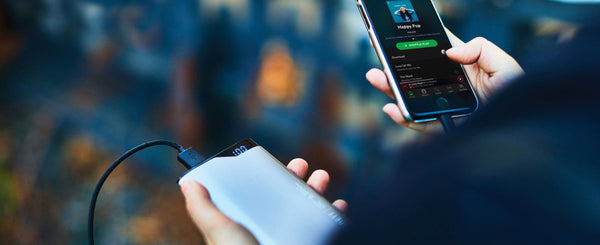 Charging Cables
There's no doubt that a charging cable is an everyday essential that most of us can't live without, which is why it's important to only buy from the best. At Cygnett, we pride ourselves on supplying charging cables that feature a durable design and are compatible with a variety of devices. On top of that, we also stock a range of fast-charging cables that will ensure you're never caught without charge. Whether you're in the market for an iPhone, Samsung or Android device cable, we offer the ultimate selection of industry-standard connection types, including Lightning, USB-A, USB-C, Micro USB and wireless charging docks. So if you need a high-quality charging cable, be sure to check out Cygnett's unbeatable selection.
iPhone & iPad Charging Cables
Looking for an iPad or iPhone charging cable? You can't go past Cygnett. Our range offers the same quality as an apple charging cable with even more benefits, such as an unrivalled charging speed. Within our collection, you'll find a Lightning to USB-C charging cable that allows you to charge an iPhone to 50% in just half an hour, as well as Lightning to USB-A cables compatible with iPhone 5 onwards and the iPad and iPad Pro. These cables are made from high-quality materials and are built to withstand daily wear and tear, so you can trust that they will last. Plus, with a variety of lengths and styles to choose from, you can find the perfect iPhone or iPad charging cable to suit your needs.
Samsung & Android Charging Cables
Within Cygnett's range, you're guaranteed to find the right Samsung charging cable to suit your needs, whether it be a USB-C to USB-A or a Micro USB to USB-A option. Our collection of Samsung and Android cables also includes 15W wireless chargers, as well as a USB-C to USB-C charge cable that can reach record charging speeds of 5A/100W with USB 3.1 technology. Whether you need a short cable for on-the-go charging or a longer cable for use at home, Cygnett has you covered.
Fast Charging Cables
For those who need to charge their devices in a hurry, Cygnett's fast-charging cables are the perfect solution. These cables are designed to deliver a faster charge, so you can get back to using your device in no time. Our USB-C to USB-C cables let you charge your laptop, tablet or smartphone at unparalleled speeds of up to 5A/100W with USB 3.1, while our USB-C to USB-A cables perform at an impressive 3A/60W.
Frequently Asked Questions
What is a Fast-Charging Cable?
They may be growing in popularity, but exactly what is a fast-charging cable? Well, it is a type of charging cable that is designed to deliver a faster charge to your device. These cables typically use higher wattage or voltage to charge your device more quickly than a standard cable. Our fast charging cables offer speeds of at least 2.4A/12W.
Can I Use Any Cable for Fast Charging?
Have you ever wondered, 'can I use any cable for fast charging?' The answer is that not all cables are capable of fast charging. To take advantage of fast charging, you will need to use a cable that is specifically designed for this purpose. Fast cables typically offer an output of at least 2.4A/12W, but some USB-C to USB-C cables can offer up to 5A/100W. Remember that not all devices are compatible with fast charging, so check your device's specifications before using a fast-charging cable.
Does Cable Length Affect Charging Speed?
Generally, the length of a charging cable should not significantly affect the speed at which your device charges. However, it is possible that using a particularly long or particularly short cable may slightly affect the charging speed. For the best results, it is recommended to use a cable that is the appropriate length for your needs.
We don't seem to have any product in this category just now, please check back with us later as new styles arrive regularly